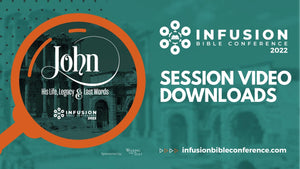 This Digital Download includes all videos for the entire 2022 IBC - John: His Life, Legacy, & Last Words, hosted at Church of the City in Franklin, TN. It also includes a free PDF download of the Conference Notebook.
Each video is the full session from each day.
Session 1: Setting the Life of John in Time

Welcome
Setting the Life of John in Time
Faculty Introductions
The Principate from Augustus to Emperor Domitian
John in Israel
John in Asia

Session 2: Background & Context of Asia and Ephesus

Greek Settlement + How Asia Became Roman
Ephesus As a Christian Center
Ephesus: History and Makeup of the City
How Romans Thought of Themselves
Of Love and Thunder
Kosher Kid from Small Town Ends Up in Big, Gentile City
Transferable Skills
Last Man Standing

Session 3: John's Gospel Literary Context of John

John 1: Logos and Philosophical Christology
John 2: Wedding at Cana
John 3: Nicodemus The Ambivalent Disciple
Session 4: John's Gospel

John 4: Woman at the Well
John 5: An Incomplete Healing
John 6: Bread of Life Discourse
John 7: John's Use of the Festivals

Session 5: John's Gospel

John 11: Raising of Lazarus
John 13: John's Passion Narrative and Upper Room
John 17: A Farewell Prayer
Victory in the Garden

Session 6: John's Epistles

The Context of Traveling Teachers
The Legal Argument of 1 John
1 John: Walk in the Light
2-3 John: Leadership Matters a Great Deal

Session 7: John's Revelation

The Persecution of the Christians Under the Roman Empire
Exile on Patmos
The Structure of Revelation
Reading Revelation Responsibly
Session 8: John's Revelation 

Jesus to the Rescue! (Revelation 1)
Ephesus
Smyrna
Pergamum

Session 9: John's Revelation

Thyatira
Sardis
Philadelphia
Laodicea

Session 10: Near and Dear to John's Heart (and Ours)

John's Focus on Love
You're Just Here for the Bread
John and Heaven
What is That to You?
After purchase, you will receive a PDF download in email. It contains the necessary instructions to download the session videos. These are large files. A high-speed internet connection is strongly recommended as most files are around 2-3GB.
2022 PDF Notebook

This PDF notebook contains notes, resources, and recommended sources of each presentation from the 2022 IBC - John: His Life, Legacy, & Last Words. 
**Comes as a PDF download**