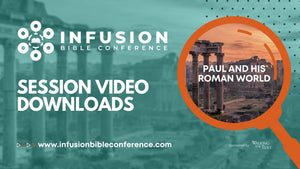 This Digital Download includes all videos for the entire 2021 IBC - Paul and His Roman World, hosted at Church of the City in Franklin, TN. It also includes a free PDF download of the Conference Notebook.
Each video is the full session from each day.
Session 1: A Clash of Kingdoms

Why We're All Here

Background on the Roman Empire

Paul's Background and Calling

A Clash of Kingdoms

Session 2: Overcoming the Same Problem

The Aeneid & The Roman Way

Views of Law

Forging a Christian Identity Between Jew and Gentile

Session 3: The Pattern

Q & A
What's in a Name?
How the Christians Challenged the System

Session 4: People of the Empire

People Snapshots
Four Types of Marriages
The Roman and Christian Household Code

Session 5: Slaves and Sexuality

Augustales and Slaves in the Roman World
Roman View on Sexuality

Session 6: Roman Religion and the Emperors

Roman Religion and Emperor Worship
Emperors of the NT and Their Biggest Problem

Session 7: Leisure Life

Q & A
Otium
Roman Baths
Pubs and Brothels
Walking the "Roman Street" in Ephesus

Session 8: Common Imagery

"My Domus is Your Domus"
Stadium and Chariot Races
Gladiator Contests and Beast Hunts
Land and Sea Travel

Session 9: Common Imagery cont.

Theatre
Macellum and Restaurants
The Triumph

Session 10: Near and Dear to Paul's Heart (and Ours)

Death, Hope, and Eternal Life
The Sanctity of Suffering
We are the Message
After purchase, you will receive a PDF download in email. It contains the necessary instructions to download the session videos. These are large files. A high-speed internet connection is strongly recommended as most files are around 2-3GB.
2021 PDF Notebook

This PDF notebook contains 155 pages of notes, resources, and recommended sources of each presentation from the 2021 Paul and His Roman World Conference. 
**Comes as a PDF download**