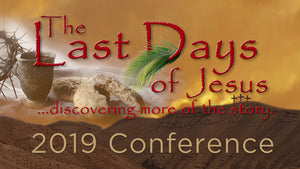 This Digital Download includes all 42 videos for the entire 2019 The Last Days of Jesus Conference. It also includes a free PDF download of the Conference Notebook. 
Videos 
Teaching on Content and the Theme of the Conference 
Introduction of Faculty

Caesarea Phillipi 
Raising of Lazarus
Context of the Gospels
Zacchaeus and the Gospel For Us All
Parable of the Minas
Exodus & Passover Context
The Prophets & Palm Sunday
Cloaks

Palm Branches
Psalms (Songs Tap Into Stories

Tears
Rescue of the Demoniac
Q & A (Rescue of the Demoniac)
Cleansing of the Temple (Confronting the Sadducees)
Cursing of the Fig Tree (Confronting Jewish Leadership)
Questioning Jesus' Authority (Confronting Priests & Elders)
Paying the Imperial Tax (Confronting Pharisees & Herodians)
Jesus Anointed at Bethany
The Last Supper Seating Protocol
Washing the Disciples' Feet
The New Covenant and Four Cups of Passover

The Fifth Cup
The Arrest
Judas
Jesus Before the Sanhedrin
Peter Disowns Jesus Thrice
Pilate's Predicament
Q & A (from Day 2)
Barabbas - The Federal Man Who Took Our Place
Flogging and Method of Crucifixion
Jesus' Final Words in Matthew, Mark & John
Jesus' Final Words in Luke
Tearing of the Curtain & Implications
The Resurrection according to John 20
The Resurrection First Witnessed by Women

The Road to Emmaus
Jesus Meets With His Disciples 
The Restoration of Peter
Planning the Passion to Perfection

Closing Q & A (from day 3)

2019 PDF Notebook
This PDF notebook contains 170 pages of notes, resources and recommended sources of each presentation from the 2019 The Last Days of Jesus Conference. 
**Comes as a PDF download**